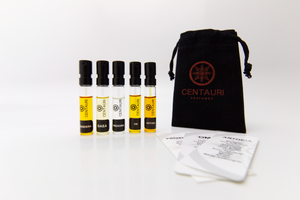 Complete Discovery Set - Limited Editions such as (Mirabai) are not included. 
All samples are also available individually. Check our stockists list tab for links to samples in America and Europe. 
Dendera 2ml

Nutmeg, Cinnamon, Orris Butter, Rose Absolute, Vietnamese Oud, East Indian Sandalwood, Haitian Vetiver, Frankincense, Myrrh, Labdanum, Madagascan Vanilla Absolute & White Ambergris. 
Gaea 2ml
Green Leaves, Dry Earth, Honey, Tuberose, Rose, Lavender, Orris Butter, Apple, Cedarwood, Wormwood, Patchouli & Ambergris.
Proxima 2ml
Grapefruit, Blackcurrant, Berries, Aldehyde, Rose, Air, Blonde Woods, Iris, Sambac Jasmine, Musk
Om 2ml
Thai Oud, Frankincense, Spikenard, Patchouli, Smoke, Pink Pepper, Ginger, Juniper Berry, Lavender Absolute, Peru Balsam, Synthetic (non-animal) Civet, (non-animal) Deer Musk Recreation, White Ambergris Tincture (Beach found from Ireland.)  
Antheia 2ml
Red Mandarin, Yuzu Aldehyde, Apricot, Raspberry, Pink Lotus Absolute, Orris Butter Tincture, Violet Accord, Rose Absolute, Madagascan Vanilla Absolute, Vanillin, Non-Animal Musk, Peru Balsam, Benzoin, Vetiver, White Ambergris Tincture.  
Elixir 2ml 
Cognac Essential Oil, Rum Ether, Caramel, Black Coffee, Texas Cedarwood, Sandalwood, Patchouli, Vegan Musk Accord